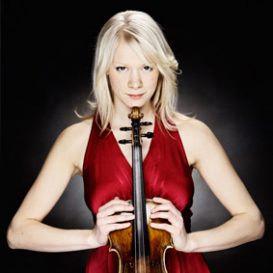 Kreeta-Julia Heikkilä
An energetic, dynamic and diverse violinist, Kreeta-Julia Heikkilä is frequently invited to perform internationally as a soloist, chamber musician and concertmaster. Since 2017, she has been Artistic Director of and violinist at the Helsinki Chamber Music Festival.
Kreeta-Julia Heikkilä appears annually as a soloist and chamber musician at many international festivals in Europe, the USA, South Korea and Russia. She has been a soloist with orchestras such as the Lahti Symphony, Danish National Chamber Orchestra, Fairbanks Symphony, Vaasa City Orchestra, Oulu Symphony, Kuopio Symphony, Helsinki Sinfonietta, St John's Chamber Orchestra and Nordea Jean Sibelius Orchestra. She is also the featured soloist on Rufus Wainwright's albums Prima Donna and Take All My Loves – 9 Shakespeare Sonnets, with the BBC Symphony Orchestra released on Deutsche Grammophon in 2015. In 2018, she performed all five Mozart violin concertos with the Kirkkonummi Chamber Orchestra.
A recognised concertmaster, Kreeta-Julia Heikkilä has led the Vaasa City Orchestra (2012), the Danish National Chamber Orchestra (2013–) and the Oulu Symphony Orchestra (2015). She has had concertmaster engagements not only in several Nordic symphony orchestras but also the BBC Symphony Orchestra, the iPalpiti Chamber Orchestra, the Atlantic Music Festival Orchestra and others, and in recent years the Norwegian Opera Orchestra, Trondheim Symphony, Helsinki and Turku Philharmonics.
In 2014/15, she served as the Artistic Director and violinist of the TEOS – Finnish Chamber Music Series in Helsinki. She was proud to serve as a board member, coach, chamber musician and concertmaster of the Beethoven NOW! project in Helsinki. In 2018/2019, she was Artistic Director of the Minimalia Concert Series presenting minimalistic chamber music in Helsinki.
Born in 1986, Heikkilä began playing the violin at the age of five at the East Helsinki Music Institute as a pupil of Géza Szilvay, and continued her studies at the Sibelius Academy under Tuomas Haapanen, Päivyt Meller, Mi-Kuyng Lee and Tero Latvala. She graduated with distinction from the Sibelius Academy in 2015 and from the Royal College of Music in London in the summer of 2012, where she studied as an AHRC Scholar under Jan Repko. She has been a laureate at national and international violin and chamber music competitions, and a winner of numerous awards, including the prestigious Pro Musica and Nordea awards.
Kreeta-Julia plays an Andrea Guarneri violin from 1680, kindly on loan from the Finnish Cultural Foundation.